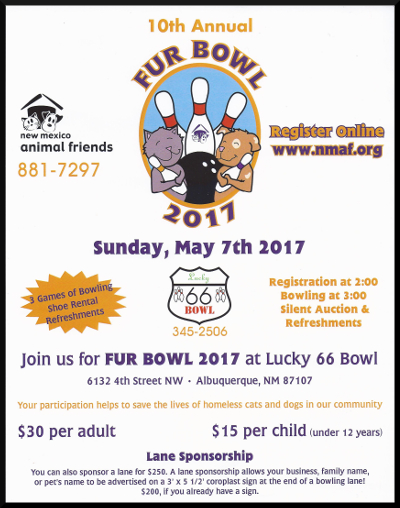 Join Us for the NMAF 10th Annual Fur Bowl
A family fun, bowl-a-thon fundraiser for New Mexico Animal Friends
Sunday, May 7th
Lucky 66 Bowl
6132 4th St. NW
Albuquerque
Registration and lane assignments start at 2:00 pm
Bowling begins at 3:00 pm
$30 per adult
$15 per child (under 12 years)
Lane Sponsorship: $250
(if the same sign is used as last year: $200)
There will also be a silent auction, food, and prizes
Your participation helps to save the lives of homeless cats and dogs in our community

Lucky
Lucky is an 8 year old, male,
Brown Classic Tabby
who is very playful
and loves feather toys.
Lucy
Lucy is a senior female
Solid Blue, Domestic Shorthair cat
who loves feather toys
and likes to cuddle at night.
Briggs
Briggs is a 6 year old, male, Brown Tabby
who likes to be with people
and is good with other cats.