Home

LOST DOG!
Missing in Rio Rancho (87124)
Crossroads: 19th and Hwy. 528
Strong winds knocked down a part of the owner's fence and this sweet girl got out (Feb. 21st).
Please help find this little girl! Her mom is very distraught.
If seen or found, call 249-0920 or 994-9437.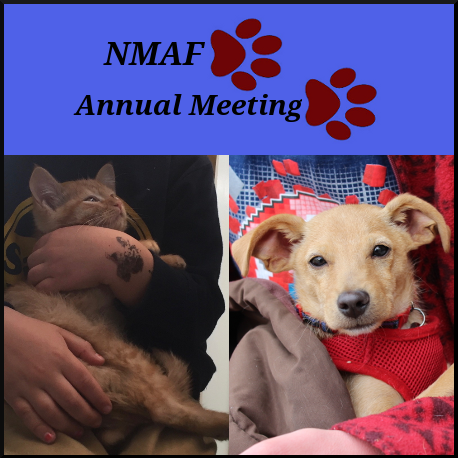 It's our biggest social event of the year!
Get caught up on the latest NMAF news, share your favorite animal stories, visit with old friends and meet new ones. We will have a speaker from Animal Humane New Mexico and an election of board members.
Please join us and show your support for New Mexico Animal Friends and our dedicated Board of Directors (please note the new meeting location).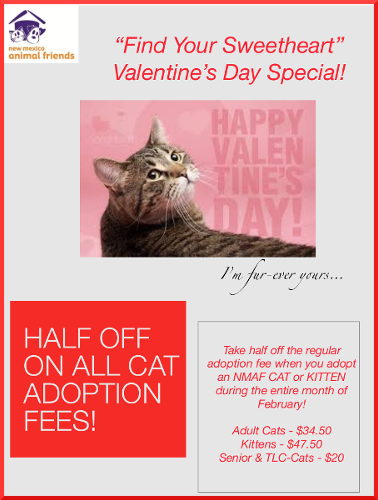 "Find Your Sweetheart"
Valentine's Day Special
Take half off the regular adoption fee
when you adopt a NMAF cat or kitten
during the entire month of February!
Briggs has been very ill and needs your help. Two months ago, Briggs' breathing was labored and he could not stand up. X-rays showed that he had an enlarged liver, kidneys, and heart. After IV fluids and oxygen treatments, he seemed to feel better, but his diagnosis remained a mystery. Briggs's breathing difficulties later returned, along with nosebleeds. After more testing and treatments, Briggs is currently stable, but he still needs your support. Can you please help us raise the funds to help with Briggs's vet bills and ongoing treatment? With your help, we can make sure Briggs receives all the care he needs.
On behalf of Briggs and NMAF – thank you.

Tigger and Toby Wingate - Foster Home Needed
Tigger and Toby are 7 year old, male, Red (orange) Tabbies.
They are very close in their hearts to one another
and like to play and snuggle up together for long snoozes.
Elliot
Little Elliot wouldn't stop chewing on his stitches after his neuter surgery.
There were problems with his e-collar and nothing else seemed to work.
This is how his foster mom finally solved the problem - with a cowboy hat!
Elliot has been adopted, but this is so cute it had to be shared!
Briggs
Briggs is a 6 year old, male, Brown Tabby
who likes to be with people
and is good with other cats.
---